Plate Partners
Check ceremonies with our past Plate Partners. Click on the slide to learn more about each organization.
About Our Plate Partner Program
We acknowledge, as Americans, that the land, country and society bequeathed to us is on one hand the product of conquest and exploitation and on the other "conceived in liberty and dedicated to the proposition that all are created equal".
Justice is at the core of our faith and we are called on to make a positive difference in our wider community as we work to build a diverse, multicultural Beloved Community free of racism and oppression in our society, government and ourselves.
As Unitarian Universalist, we believe that each of us has worth and dignity and that worth includes our gender and sexuality; that women have a right to bodily autonomy; that every American has the right to vote and a right to health care and a sustainable way of life. We believe in the right of people to seek and to be granted asylum from persecution. We believe in and support the sovereignty of indigenous communities.
To these ends, we are eager to find and support movements and organizations that align with our mission, community needs, and the justice work of the UUA and ourselves. Such organizations may become a Plate Partner for one month during the year. During that month, we invite the Plate Partner to share their work and mission and we collect a portion of that month's offering to share with the Plate Partner.
Nominating a Plate Partner
The Social Justice Council looks to the members and friends of our congregation to nominate organizations to be Plate Partners.  Please visit the Plate Partner Nomination page.
2020-2021 Plate Partners & Spiritual Themes
September 2020

Renewal | Citizens' Climate Lobby Boise
CCL empowers everyday people to work together on climate change solutions. Our supporters are organized in more than 400 local chapters across the United States. Together we're building support in Congress for a national bipartisan solution to climate change.
October 2020
Deep Listening | CATCH

CATCH exists because everyone needs a home. We work to create a safe, healthy, connected community by embracing Housing First best practices, empowering those without housing, building collaborative partnerships, and increasing public understanding to make homelessness rare, brief, and non-recurring. Our vision is to end homelessness in the Treasure Valley!
November 2020

Healing | Planned Parenthood
Planned Parenthood is a trusted health care provider, an informed educator, a passionate advocate, and a global partner helping similar organizations around the world. Planned Parenthood delivers vital reproductive health care, sex education, and information to millions of people worldwide.
December 2020

Stillness | The BUUF Pay it Forward Fund (PIFF)
The Rev. Elizabeth Greene Pay it Forward Fund (PIFF) was created approximately thirteen years ago to address a need among our own BUUF community for short-term emergency financial assistance. PIFF is the recipient of the social justice outreach plate offerings each year and is available to support BUUF members and friends through the generosity of those who donate. Over the years, funds have helped members and friends stay in their homes, pay for groceries, utilities, medical expenses, and other basic needs of living.
January 2021
Imagination | Learning Lab

Transforming the lives of adults and families through personalized education. Learning Lab is a literacy education center for low-income adults and families with young children. Instruction is individualized, based on students' needs and goals.
February 2021

Beloved Community | Boise/Mészkӧ Scholarship Fund
Since January 2012, thanks to the generosity of members and friends of our fellowship, we have been able to fund scholarships for roughly half the tuition and expenses to help the youth of our partner congregation in Mészkő, Romania.
March 2021

Commitment |  ACLU Idaho
The ACLU of Idaho is a non-partisan, non-profit organization dedicated to the preservation and enhancement of civil liberties and civil rights. They strives to advance civil liberties and civil rights through activities that include litigation, education and lobbying.
April 2021
Becoming | Living Independence Network Corporation 
Empowering people with disabilities to achieve their desired level of independence.
May 2021

Story | Life's Kitchen
Life's Kitchen is dedicated to transforming the lives of young adults by building self-sufficiency and independence through comprehensive food service and life skills training, placement in the food service industry, and continuing education.
June 2021
Play | Giraffe Laugh
We are a local non-profit that provides early care and education to young children by ensuring school readiness, empowering families and building strong futures. We want every child in the Treasure Valley has access to quality early care and education and all parents are supported through the early years of parenthood regardless of age or income. We know by ensuring kids are ready for kindergarten and empowering families, we are building strong futures every day.
July 2021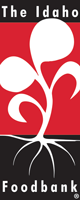 No Theme | Idaho Foodbank
Envisioning a hunger-free Idaho, we help feed, educate and advocate for Idaho's hungry through collaborative partnerships to develop efficient solutions that strengthen individuals, families and communities.
August 2021

No Theme | Jesse Tree
We believe in investing in prevention. Let's keep the traumatic, life-altering event of eviction and homelessness from happening to our neighbors before it's too late for them, and for our community.